Aktorzy Lost :: Maggie Grace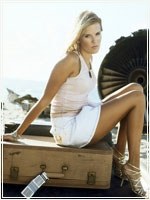 Właściwie:

Margaret Grace Denig

Data urodzenia:

21 września 1983

Miejsce urodzenia:

Columbus, Ohio, USA

Miejsce zamieszkania:

Los Angeles

Narodowość:

amerykańska

Wzrost:

1,80 m

Początek kariery:

rola Rachel Reed w filmie Rachel's Room w 2001 roku

Debiut na dużym ekranie:

rola Elizabeth Williams w horrorze Mgła w 2005 roku

WWW:
Maggie Grace urodziła się w Columbus w Ohio (USA) w 1983 roku, dorastała jednak w Worthington. Karierę aktorki rozpoczęła 2001 roku rolą Rachel Reed w filmie Rachel's Room. W 2002 roku otrzymała główną rolę w serialu Septuplets, który niestety nigdy nie trafił na antenę. Jednak tego samego roku zagrała w filmie Murder in Greenwich, gdzie wcieliła się w rolę Marthy Moxley. To właśnie ten film jest wymieniany jako początek prawdziwej kariery Magie, ale dopiero postać Shannon Rutherford w Zagubionych przyniosła Grace prawdziwą sławę. Serial opuściła jednak w 2005 roku, w połowie drugiego sezonu. Magie nienawidzi swoich długich nóg, chociaż to właśnie one są jej znakiem rozpoznawczym.
Filmografia
The Fog (2005) jako Elizabeth Williams
Lost (2004) (serial TV) jako Shannon Rutherford (2004-2005)
Creature Unknown (2004) jako Amanda
Twelve Mile Road (2003) (TV) jako Dulcie Landis
Murder in Greenwich (2002) (TV) jako Martha Moxley
Septuplets (2002) (serial TV) jako Hope Wilde
Shop Club (2002)
Rachel's Room (2001) jako Rachel Reed
Występy gościnne
Law & Order: Special Victims Unit jako Jessie Dawning w odcinku: Obscene (odcinek #6.3) 12 October 2004
Oliver Beene jako Elke w odcinku: Babysitting 12 Wrzesień 2004
Oliver Beene jako Elke w odcinku: Catskills (odcinek #2.12) 22 Sierpień 2004
Oliver Beene jako Elke w odcinku: Superhero (odcinek #2.10) 8 Sierpień 2004
Oliver Beene jako Elke w odcinku: Oliver & the Otters (odcinek #2.8) 13 Czerwiec 2004
Oliver Beene jako Elke w odcinku: Idol Chatter (odcinek #2.7) 6 Czerwiec 2004
Cold Case jako Rene w odcinku: Volunteers (odcinek #1.16) 7 Marzec 2004
Oliver Beene jako Elke w odcinku: Ward Have Mercy (odcinek #2.3) 7 Marzec 2004
Oliver Beene jako Elke w odcinku: Dibs (odcinek #2.2) 4 Luty 2004
Like Family jako Mary w odcinku: My Two Moms (odcinek #1.12) 23 Styczeń 2004
Miracles jako Hannah Cottrell w odcinku: Mother's Daughter (odcinek #1.9) 28 Listopad 2003
CSI: Miami jako Amy Gorman w odcinku: Spring Break (odcinek #1.21) 28 Kwiecień 2003
The Lyon's Den jako Haley Dugan w odcinku: Beach House (odcinek #1.12)
Udział w programach
The View 13 październik 2005
Jimmy Kimmel Live 11 październik 2005
Entertainment Tonight 17 sierpień 2005