Aktorzy Lost :: Terry O'Quinn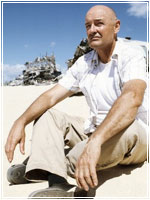 Właściwie:

Terrance Quinn

Data urodzenia:

15 lipca 1952

Miejsce urodzenia:

Newberry, Michigan, USA

Miejsce zamieszkania:

Hawaje

Narodowość:

Amerykanin Irlandzkiego pochodzenia

Wzrost:

1.87 m

Początek kariery:

F.D.R.: The Last Year (1980) jako James Roosevelt

Debiut na dużym ekranie:

Heaven's Gate (1980) jako Capt. Minardi

WWW:
Urodził się 15 lipca 1952 roku. Pracował w różnych zawodach m.in jako ochroniarz. W szkole średniej nauczył się grać na perkusji. W wieku 20 lat zaczął łysieć, dlatego zaczął golić sobie głowę częściowo lub całkowicie. W 1979 roku ożenił się z Laurie. W 1980 roku zgrał w filmie Heaven's Gate, gdzie został zauważony. Zaczął grać zarówno w filmach jak i serialach, które noszą miano kultowych. Zazwyczaj obsadzano go w rolach twardych typów. Jego jednym z najlepszych przyjaciół jest Chris Carter (twórca i producent serialu Z Archiwum X). Dzięki niemu zagrał tam w dwóch odcinkach oraz w kinowej wersji. Grając w serialu Alias został zauważony przez jego producenta J.J. Abramsa, dzięki czemu dostał rolę Locke'a w serialu Lost (bez castingu i przesłuchań), za którą otrzymał Saturna i został nominowany do nagrody Emmy. Terry jest również utalentowanym gitarzystą i piosenkarzem. Ma żonę i dwoje dorosłych synów: Olivera (23 lata) i Huntera (21 lat).
Związane – Roswell: Zagrał postać Carla (szef Michaela) w Odcinku Michael, Guys and the Great Snapple Caper.
Filmografia:
Lost (2004) Serial – John Locke
The Animated Alias: Tribunal (2004) (V) (voice) – F.B.I. Asst. Director Kendall Phenomenon II (2003) (TV)
Old School (2003) (uncredited) – Goldberg
The Locket (2002) (TV) – Casey Keddington
Hometown Legend (2002) – Buster Schuler
American Outlaws (2001) – Rollin H. Parker, Rain's Gopher
WW3 (2001) (TV)
Semper Fi (2001) (TV) – Cliff's father
Rated X (2000) – J.R. Mitchell
Harsh Realm (1999) Serial – General Omar Santiago
Harsh Realm (1999) (TV) – General Omar Santiago
Murder in a Small Town (1999) (TV) – Sidney Lassiter
The X Files (1998) – Darius Michaud
Breast Men (1997) – Hersch Lawyer
My Stepson, My Lover (1997) (TV) – Richard Cory
On the Edge of Innocence (1997) (TV)
Shadow Conspiracy (1997) – Frank Ridell
Ghosts of Mississippi (1996) – Judge Hilburn
Millennium (1996) Serial – Peter Watts
Primal Fear (1996) – Bud Yancy
Shadow Warriors (1996) – Dr. Connors
JAG (1995) (TV) – Capt. Thomas Boone
Ray Alexander: A Menu for Murder (1995) (TV) – Frank Darnell
A Friend to Die For (1994) (TV) – Ed Saxe
Justice in a Small Town (1994) (TV) – Harris Wiley
Don't Talk to Strangers (1994) (TV) – Bonner
Heart of a Child (1994) (TV) – Gordon Holc
Lipstick Camera (1994) – Raymond Miller
MacShayne: Winner Takes All (1994) (TV) – Danny Leggett
Tombstone (1993) – Mayor John Clum
Amityville: A New Generation (1993) (V) – Detective Clark
Visions of Murder (1993) (TV) – Admiral Truman Hager
Born Too Soon (1993) (TV) – Dr. Friedman
The Good Fight (1992) (TV) – Henry Cragin
Wild Card (1992) (TV) – Barlow
Sexual Advances (1992) (TV) – Cliff Ripley
Trial: The Price of Passion (1992) (TV) – Bob Altschuler
Deliver Them from Evil: The Taking of Alta View (1992) (TV) – Sergeant Don Bell
The Cutting Edge (1992) – Jack Moseley
My Samurai (1992) – James McCrea
Company Business (1991) – Colonel Pierce Grissom
The Rocketeer (1991) – Howard Hughes
Shoot First: A Cop's Vengeance (1991) (TV) – Sergeant Nicholas
Son of the Morning Star (1991) (TV) – Gen. Alfred Terry
The Last to Go (1991) (TV) – Daniel
Kaleidoscope (1990) (TV) – Henry
Prisoners of the Sun (1990) – Maj. Beckett
Perry Mason: The Case of the Desperate Deception (1990) (TV) – Curt Mitchell
The Forgotten One (1990) – Bob Anderson
Stepfather II (1989) – Dr. Gene Clifford/The Stepfather
Blind Fury (1989) (as Terrance O'Quinn) – Frank Devereaux
Roe vs. Wade (1989) (TV) – Jay Floyd
Guts and Glory: The Rise and Fall of Oliver North (1989) (TV) – Aaron Sykes
Young Guns (1988) – Alex McSween
Stranger on My Land (1988) (TV) – Connie Priest
Jogger (1988)
Pin... (1988) – Dr. Linden
When the Time Comes (1987) (TV) – Wes Travis
Black Widow (1987) – Bruce, Alex's Boss
At Mother's Request (1987) (TV) – Joel Campbell
The Stepfather (1987) – Jerry Blake/The Stepfather
SpaceCamp (1986) – Launch Director
Between Two Women (1986) (TV) – Dr. Wallace
Women of Valor (1986) (TV) – Maj. Tom Patterson
An Early Frost (1985) (TV) – Dr. Redding
Silver Bullet (1985) – Sheriff Joe Haller
Mischief (1985) – Claude Harbrough
Right to Kill? (1985) (TV) – Jim Barrett
Mrs. Soffel (1984) – Detective Buck McGovern
Places in the Heart (1984) – Buddy Kelsey
All the Right Moves (1983) (as Terrance O'Quinn) – Freeman Smith
Without a Trace (1983) – Parent
The Doctors (1963) Serial – Dr. Jerry Dancy (1981)
Heaven's Gate (1980) – Capt. Minardi
F.D.R.: The Last Year (1980) (TV) – James Roosevelt
Występy gościnne
The View jako on sam
The West Wing jako General Nicholas Alexander w odcinku: The Birnam Woods (odcinek # 6.2)
The West Wing jako General Nicholas Alexander w odcinku: N.S.F. Thurmont (odcinek # 6.1)
The West Wing jako General Nicholas Alexander w odcinku: Gaza (odcinek # 5.21)
Navy NCIS: Naval Criminal Investigative Service jako Col. Will Ryan w odcinku: Enigma (odcinek # 1.15)
Law & Order: Criminal Intent jako Gordon Buchanan w odcinku: Mis-Labeled (odcinek # 3.14)
The West Wing jako General Nicholas Alexander w odcinku: An Khe (odcinek # 5.14)
The West Wing jako General Nicholas Alexander w odcinku: The Warfare of Genghis Khan (odcinek # 5.13)
Alias jako F.B.I. Asst. Director Kendall w odcinku: Full Disclosure (odcinek # 3.11)
The West Wing jako General Nicholas Alexander w odcinku: The Stormy Present (odcinek # 5.10)
The West Wing jako General Nicholas Alexander w odcinku: Disaster Relief (odcinek # 5.6)
Alias jako F.B.I. Asst. Director Kendall w odcinku: The Telling (odcinek # 2.22)
Alias jako F.B.I. Asst. Director Kendall w odcinku: Second Double (odcinek # 2.21)
Alias jako F.B.I. Asst. Director Kendall w odcinku: Truth Takes Time (odcinek # 2.18)
Alias jako F.B.I. Asst. Director Kendall w odcinku: A Dark Turn (odcinek # 2.17)
Alias jako F.B.I. Asst. Director Kendall w odcinku: Firebomb (odcinek # 2.16)
Alias jako F.B.I. Asst. Director Kendall w odcinku: A Free Agent (odcinek # 2.15)
Alias jako F.B.I. Asst. Director Kendall w odcinku: Double Agent (odcinek # 2.14
Alias jako F.B.I. Asst. Director Kendall w odcinku: Phase One (odcinek # 2.13)
Alias jako F.B.I. Asst. Director Kendall w odcinku: The Getaway (odcinek # 2.12)
Alias jako F.B.I. Asst. Director Kendall w odcinku: A Higher Echelon (odcinek # 2.11)
JAG jako Admiral Thomas Boone w odcinku: All Ye Faithful (odcinek # 8.11)
Alias jako F.B.I. Asst. Director Kendall w odcinku: Passage: Part 2 (odcinek # 2.9)
Alias jako F.B.I. Asst. Director Kendall w odcinku: Passage: Part 1 (odcinek # 2.8)
Alias jako F.B.I. Asst. Director Kendall w odcinku: The Counteragent (odcinek # 2.7)
Alias jako F.B.I. Asst. Director Kendall w odcinku: Dead Drop (odcinek # 2.4)
Alias jako F.B.I. Asst. Director Kendall w odcinku: Cipher (odcinek # 2.3)
Alias jako F.B.I. Asst. Director Kendall w odcinku: Trust Me (odcinek # 2.2)
Alias jako F.B.I. Asst. Director Kendall w odcinku: Q & A (odcinek # 1.17)
JAG jako Admiral Thomas Boone w odcinku: Code of Conduct (odcinek # 7.13)
The X Files jako Shadow Man w odcinku: Trust No 1 (odcinek # 9.6)
JAG jako Admiral Thomas Boone w odcinku: Dog Robber: Part 2 (odcinek # 7.10)
JAG jako Admiral Thomas Boone w odcinku: Dog Robber: Part 1 (odcinek # 7.9)
Roswell jako Carl w odcinku: Michael, the Guys, and the Great Snapple Caper (odcinek # 3.2)
JAG jako Admiral Thomas Boone w odcinku: A Separate Peace: Part 2 (odcinek # 6.8)
JAG jako Admiral Thomas Boone w odcinku: A Separate Peace: Part 1 (odcinek # 6.7)
JAG jako Captain Thomas Boone, CAG w odcinku: Crossing the Line (odcinek # 2.5)
Diagnosis Murder jako Dr. Ronald Trent w odcinku: The Murder Trade (odcinek # 3.14)
JAG jako Captain Thomas Boone, the CAG w odcinku: Defensive Action (odcinek # 1.13)
Homicide: Life on the Street jako Bailey Lafeld w odcinku: Hate Crimes (odcinek # 4.5)
JAG jako Captain Thomas Boone w odcinku: Pilot: Part 2 (odcinek # 1.2)
JAG jako Captain Thomas Boone w odcinku: Pilot: Part 1 (odcinek # 1.1)
The Client jako Bert Halliwell w odcinku: Pilot (odcinek # 1.0)
Earth 2 jako Reilly w odcinku: All About Eve (odcinek # 1.20)
Earth 2 jako Reilly w odcinku: Survival of the Fittest (odcinek # 1.18)
Earth 2 jako Reilly w odcinku: Redemption (odcinek # 1.9)
Earth 2 jako Reilly w odcinku: The Enemy Within (odcinek # 1.8)
The X Files jako Lt. Brian Tillman w odcinku: Aubrey (odcinek # 2.12)
Earth 2 jako Reilly w odcinku: The Church of Morgan (odcinek # 1.7)
Earth 2 jako Reilly w odcinku: Water (odcinek # 1.6)
Tales from the Crypt jako Inspector Zeller w odcinku: The Bribe (odcinek # 6.6)
Matlock jako Malcolm Engle (uncredited) w odcinku: The Dare (odcinek # 9.3)
Star Trek: The Next Generation jako Admiral Eric Pressman w odcinku: The Pegasus (odcinek # 7.12)
L.A. Law jako Nick Moats w odcinku: Beauty and the Breast (odcinek # 6.20)
Jake and the Fatman jako Vincent Novak w odcinku: You're Driving Me Crazy (odcinek # 3.22)
Moonlighting jako Bryant Wilbourne w odcinku: Take a Left at the Altar (odcinek # 4.3)
Remington Steele jako Chuck McBride w odcinku: Coffee, Tea or Steele (odcinek # 4.8)
The Twilight Zone jako Dr. Curt Lockridge (as Terrance O'Quinn) w odcinku: Chameleon (odcinek # 1.2c)
Miami Vice jako Richard Cain w odcinku: Give a Little, Take a Little (odcinek # 1.10)
Tales of the Unexpected jako Cop w odcinku: In the Bag (odcinek # 5.15)
Udział w programach
Entertainment Tonight 17 sierpień 2005
Jimmy Kimmel Live 24 maj 2005